Over the last few years we have learned a lot about gifts. Who buys them, who gives them, who receives them, how to package them and how to give them. We found that there are two very distinct types of gifting. These are what we call Relationship Based Gifting (Personal) and Checklist Based Gifting (Not Personal). This article will focus on Relationship Based Gifting.
Relationship Based Gifting
Of all the gifts we have seen over the years none have been more effective than Relationship Based Gifts. We also consider these to be some of the most personal gifts. A gift that may have a name, a saying, a phrase, or an image engraved or printed on it. Something that will take a cool item and make it unique and special. Since these gifts are so much more personal, they are also very memorable.No one gives a better gift than a 6-year-old child; but we can get closeThink about this for a minute. This is a very profound statement. "No one give a better gift than a 6-year-old child". These gifts are typically very pure and meaningful. They are almost always some sort of drawing or art project. Usually a picture of you hand drawn in some sort of situation. Seeing the world through the lens of a 6-year-old child is just so amazing and pure. In a poll of 100 people that received a gift from a child; 90% said the gift had exceeded their expectations. Not only did it exceed expectations they also learned something new about themselves. How can we exceed expectations like a 6 year old?
can we gift like children?
If you are a corporate marketing person reading this, you are probably thinking; there is no way I am going to be able to get our salespeople to draw meaningful pictures of their clients in the company holiday card this year. Let's be real if we an get them to sign the card it would be a huge achievement. As entertaining as this would be to see and receive; our time has passed. We need to find a gift that will not only have some meaning but also stick around for a while.
Can your gift generate a sale?
This is a great question and another one to ponder for a moment. It has been said that food is the way to a man or a woman's heart. We have all received popcorn, cookies, cake, maybe even a turkey at Thanksgiving. Don't get me wrong food-based gifts are great. However, when they are gone, they are gone. The 1st memory they will have of their gift is when it exits their body; hopefully the experience is a good one. The 2nd memory they will have of your gift is next year around the same time. Between now and then; most people hear nothing! Ask yourself; will I do more business with this company or send them work because I got a nice tin with popcorn? It's possible but not likely. We have found that personalized items tend to come across as more meaningful and memorable. On average more people keep personalized gifts around for a while. They have a hard time tossing anything or not using anything that has a personal connection. If the recipient of your gift won't stop talking about it, then you got it right. If they thank you and don't mention it again at all, you missed the mark. 
Real Estate Closing Gifts – whether you are the lender, the title company, the realtor or other points in between; it has become almost customary to provide a closing gift of some sort to your clients. We have had clients select cutting boards, wine bottles, decanters, whisky glasses, whiskey rocks, uv printed pictures and literally hundreds of other items. As our clients built their relationships with their clients they learned about them, learned what they liked and what they didn't like. Each of the items listed here were customized in some way. We have had pictures of the new house engraved on a cutting board, funny sayings or pictures engraved on wine bottles, beautifully etched monograms on whisky glasses and an engraved bottle of Johnny Blue to match. (We need more closing gifts like that). Many of these items were put on display either in the house or the office and almost always generate  a conversation. When people ask where you got something, and they find out it came from their loan originator; guess what – YOU JUST GOT A NEW LEAD!
Corporate Gifting- We love working with corporations. It's cool to put a logo on a bottle of wine and gift it. We all know someone who likes wine. What would make that bottle stick around for a while? It could either be an awesome and expensive bottle that needs to be kept around OR it can be something more personal. Something as simple as a monogram. If you received a bottle with your monogrammed initials engraved in it, what would you do with the bottle? Some of you might drink it, some might display it but regardless of what you do, chances are you will not throw that bottle away. What will you tell the next couple that is over for dinner and asks where you got that bottle? See where we are going here. The engraved bottle is just one example. At the end of the day you gave the gift that keeps on giving – BAM – GOT A NEW LEAD! It also keeps you at top of mind and helps keep your business card on top of the pile. If you are a salesperson reading this and your corporate marketing department doesn't want to do this, take the bull by the horns and do it on your own. Remember – you own these relationships! The relationships will follow you to the next gig. Nurture them and don't take them for granted. 
Personal Gifting – why stop with business? There is so much that can be done personally as well. Whether it's a gift exchange with your local moms group, sorority, fraternity, rotary club, favorite social media group or just the neighbors. Getting unique gifts trump a gift card any day of the week. You can add names, pictures, sayings, tweets, and more to just about anything. Last year we made spoons and engraved the phrase "Cereal Killer" on them. It was fun, it was unique and it was guaranteed that no one else received anything like that. We have all had great situations with friends we give gifts to. Exploit it, show them you care. Whatever you decide to gift, make it personal! Go beyond the ordinary. We aren't going to say it will happen, but there might be a chance that BAM – YOU GET A NEW SALES LEAD.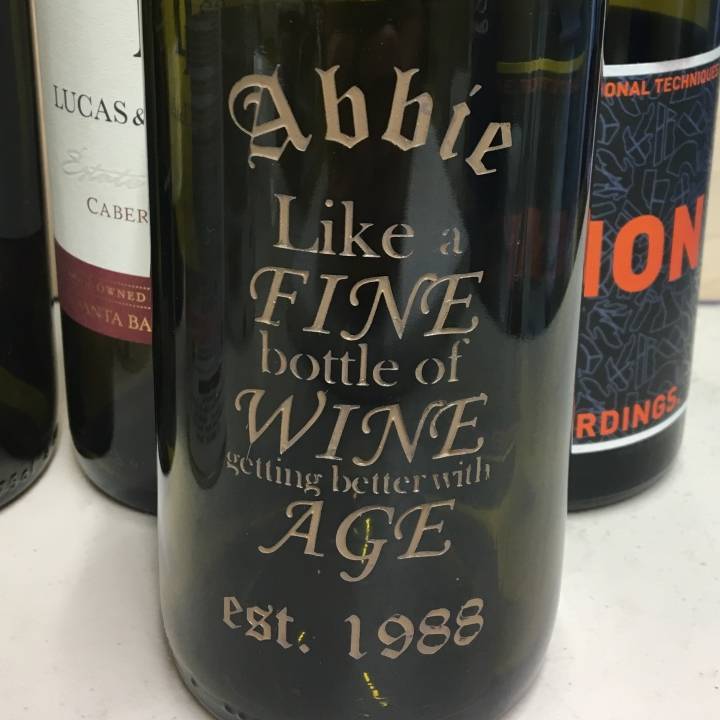 sTORY: THE BEST GIFT EVER
To date the best gift, we ever gave was an engraved wine bottle. There is a story of course. We made this wine bottle for our neighbors 30th birthday. It was all text and read something like "Abbie Like a Fine Bottle of Wine Getting Better with Age". Really simple and straightforward. My wife asked me if we should put it in a bag and I was like "Nah". We went over to the house, found her and handed her the bottle along with a big ol "Happy Birthday"! What happened next was amazing. I had been conceptually telling this story for months to clients and when it happened to me it was incredble. Let me break this down for you. The birthday girl gets gifts from her friends. Many of which chose to give a bottle of wine. When I walked in the room and gave her the present it wasn't the most expensive bottle of wine but it was the most unique and most personal. She took it out of my hands and proceeded to show all of her friends. Many of whom complimented the awesome engraving and asked where she got it. It wasn't my intent, but she told them about my business and introduced me to everyone. That was pretty cool. Admittedly I stayed a little later than I probably should have but I thought it would be nice to help clean up. What happened next was crazy cool. She gathered all the wine she received and proceeded to place it in their pantry; except for one bottle. That's right; the bottle I gave her. That one proceeded over to the liquor cart in the living room and went on permanent display. I can't tell you how many leads came off that bottle or how many times she thought of us because it was sitting in her living room because we didn't track the metrics, but the reality is it worked. Today a year later I can guarantee you there is only 1 bottle of wine that she received that she still has today and knows where it came from! Pretty damn cool.
Enough out of us, now it's time to hear from you. We would love to know. What is the best gift you ever gave and what is the best gift you ever received? More importantly – who gave it to you?